How to Convert Your PDFs into Excel Quickly and Hassle Free!
The situation is not uncommon. You are a business professional and you are asked to perform an analysis of some numerical data - be it financial statements, statistics, or a report generated by your enterprise software system. The best way to organize the numerical data and perform this type of analysis is by using a powerful spreadsheet program - usually MS Excel.
The problem is, the data you need to analyse does not come neatly packaged within an Excel spreadsheet! Generally, this data comes in a non-spreadsheet file format, such as Text, HTML or in the worst case, the data you need to analyze is in the difficult-to-edit PDF format.
You have tried cutting and pasting from the PDF into your spreadsheet but the resulting output is totally useless – the text is just placed into one column!
Now, just getting this data to the point where you can even analyse it becomes the hard part. This leaves little time for the valued added part – the data analysis. What a waste!
We've been there as well and we created Able2Extract precisely with this problem in mind, providing you with a quick solution to data formatting issues, so you can spend more time analysing your data.
Able2Extract 11 by Investintech.com Inc. lets you convert data from PDF into perfectly formatted Excel spreadsheets for easy analysis. The high-quality conversion is achieved via the tool's PDF to Excel advanced customization option that allows users to adjust settings to their spreadsheet's row and column structure prior to conversion, thus avoiding the chance of poorly formatted data in the newly created Excel file.
Aside from its precision and smooth performance, Able2Extract is very easy to use. In order to extract data for analysis into easily editable Excel spreadsheets, all you need to do is click on the Open button in the software's tool bar,

select data for conversion using the Select All or Select Area tab,

and click on Excel.

In the final step you can choose to customize your document and that is recommended with more complex data spreadsheets.
Step 1: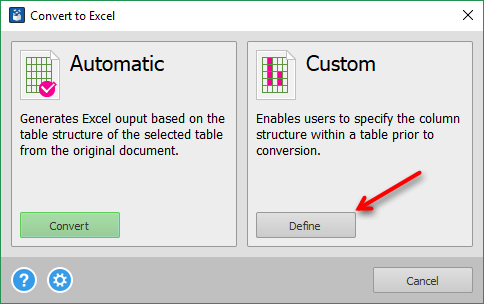 Step 2:

In order to test the tool's most popular service, download your free trial of the Able2Extract 11 PDF to Excel Conversion software and see how it works for you!