Batch Conversion of Your Work Documents
The need for efficiency in today's fast paced world is unquestioned. Matching people and their skill sets to proper equipment and tools is becoming a priority in order to achieve high productivity rates.
Organizations and individuals, including business people, entrepreneurs, educators and students, are constantly on the lookout for productivity tools that will allow them to accomplish an ever growing amount of work in less time without sacrificing quality. Activities that traditionally take up a lot of time are document creation, editing, manipulation and management. Take, for example, the widespread use of the PDF. It is one of the most used digital file formats because of its manifold advantages. It can be as safe and unalterable as its creator wants it, but also, thanks to an array of available PDF converters, it can be accurately and effectively translated into other formats more suitable for modifying and manipulating documents.
A PDF conversion tool can certainly save a lot of time to anyone who would otherwise need to retype a 100 page long textual document or a multi-sheet numerical data report. But, what happens when somebody has multiple (say, 10 or 20) such documents to convert to Word or Excel or PowerPoint or Publisher?
With most PDF converter software and web applications, one would need to convert each of those PDFs individually: open or upload each and every one of them, adjust conversion settings, start the process and save the document by document for later perusal. Productivity wise, it would be much better if all those documents could be converted in a batch or, simply put - all at once.
Performing Batch Conversions with Able2Extract PDF Converter
Can a batch conversion of PDFs be performed? And if so, how can it be performed? Through command line programming and typing? Through extra plug-ins in addition to the PDF software on your computer? Not with Investintech.
Investintech's flagship product, Able2Extract PDF Converter allows users to convert multiple PDF documents to Word, Excel, PowerPoint, Publisher, and more formats at once with only a few clicks of a button. To turn a bunch of PDFs into fully editable file formats like .xlsx or .docx users need to:
Start Able2Extract and choose batch conversion option in Able2Extract.
The easiest way to access batch conversion option in Able2Extract is by clicking its icon on the toolbar

. This opens a dialog box which allows you to select and add PDF files from your hard drive that you want to convert in batch.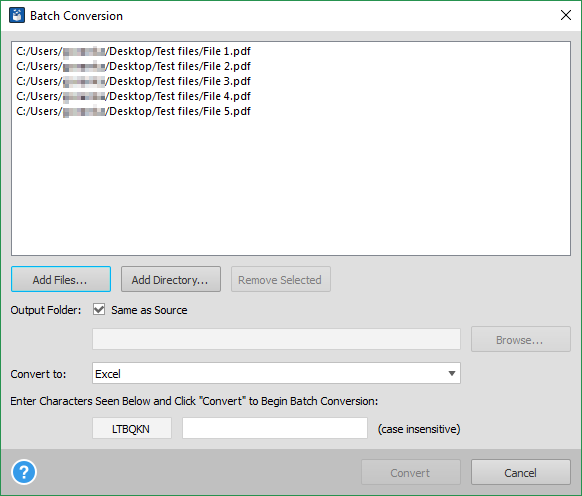 Here you can add all the PDF files you want to convert to a specific format. For example, a bunch of archived presentations that you want to rework in MS PowerPoint and reuse for a specific purpose. Or older financial report that you want to extract into editable Excel spreadsheets. You can add files from completely different folders on your computer.
Once you've added all the files you want converted, you can change the output folder where you want converted files to be saved. The default setting is to save converted documents in the folder from which they were added. However, chances are that you will want to add them to your project-specific folder or a completely new one.
Once you've specified the destination for your converted documents, in the field Convert to select from the drop-down menu the format to which you want to convert your PDFs. You can choose among Excel, Word, PowerPoint, Publisher, Text or OpenOffice formats: Writer, Calc, Impress.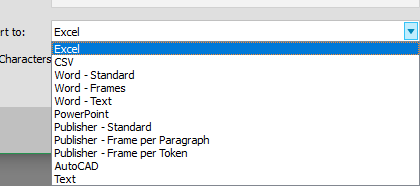 To begin conversion, simply enter characters you will see in the field provided for that and click the Convert button.
You PDFs will soon be turned into completely editable documents in the format of your choosing. You can find them in the specified output folder and start working on them in a matter of minutes.
The Able2Extract PDF Converter's batch conversion feature allows users to not only export the content of their PDFs into editable formats without the need to retype all the information, but it takes workers' productivity to a completely new level by allowing them to convert multiple files with the least amount of labour and time.